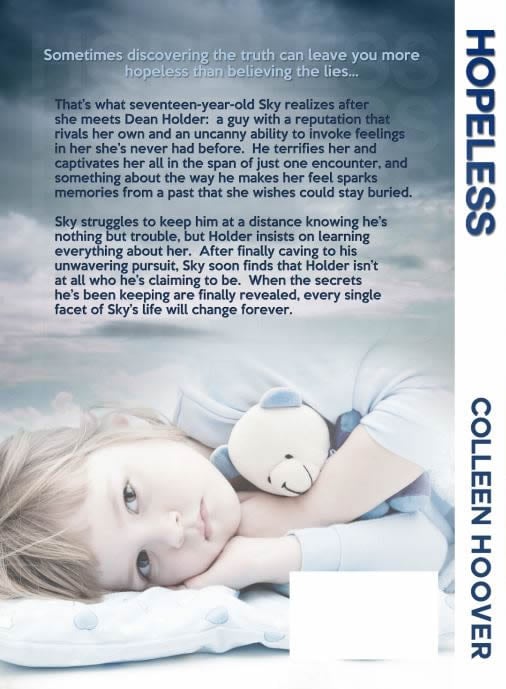 amazing book cover!! love it! fits perfectly with the story line.
Sometimes discovering the truth can leave you more hopeless than believing the lies…
That's what seventeen-year-old Sky realizes after she meets Dean Holder. A guy with a reputation that rivals her own and an uncanny ability to invoke feelings in her she's never had before. He terrifies her and captivates her all in the span of just one encounter, and something about the way he makes her feel sparks buried memories from a past that she wishes could just stay buried.
Sky struggles to keep him at a distance knowing he's nothing but trouble, but Holder insists on learning everything about her. After finally caving to his unwavering pursuit, Sky soon finds that Holder isn't at all who he's been claiming to be. When the secrets he's been keeping are finally revealed, every single facet of Sky's life will change forever.
"Sometimes you have to choose between a bunch of wrong choices and no right ones. You just have to choose which wrong choice feels the least wrong."
What an emotional, strong, and powerful book!!!
Colleen Hoover did an
amazing
job while writing this story line. I absolutely love how the characters and plot developed throughout the book. It was flawless! And let me tell ya', it takes on hell of an author to keep all those twists and turns in "order".
Sky was an incredible character. So vulnerable but at the same time, so strong. Her inner dialogue added humor to the story and her banter with Holder?? ha! loved it!
"This is Holder. Holder is not my boyfriend, but if I catch him trying to break the record for the best first kiss with another girl, then he'll soon be my not breathing non-boyfriend." Holder arches an eyebrow at me and a hint of a smile plays in the corner of his mouth. "Likewise."
I LOVE LOVE LOVE Dean Holder.. And how he's with Sky..?? Wow..!! What a guy!! His passion driven attitude is breathtaking. He's the type of guy people think they know.. but don't really.. at.all.
"the moment my lips touch yours, it will be your first kiss. Because if you've never felt anything when someone's kissed you, then then no one's ever really kissed you. Not the way I plan on kissing you"
"The sky is always beautiful. Even when it's dark or rainy or cloudy, it's still beautiful to look at... it'll be there no matter what…and I know it'll always be beautiful."
The details in this book not only allow you to relate to the characters, but also, understand them.. understand the pain they feel due to the situations they've suffered.
All the details connect in the most incredible way.. and some you don't even realize are important until the secrets begin to reveal. So keep an eye out for them.
If you haven't read this book.. You really need to!! Its story line is very realistic with unfortunate situations and the way Colleen Hoover wrote about them is simply worth your time.
I was blown away.
"Fuck all the firsts, Sky. The only thing that matters to me with you are the forevers."
(contains spoilers so DON'T read unless you've read Hopeless)
In the follow-up to Colleen Hoover's #1 New York Times bestseller Hopeless, the charming and irresistible Dean Holder tells the passionate story that has melted thousands of hearts.
In Hopeless, Sky left no secret unearthed, no feeling unshared, and no memory forgotten, but Holder's past remained a mystery.
Still haunted by the little girl he let walk away, Holder has spent his entire life searching for her in an attempt to finally rid himself of the crushing guilt he has felt for years. But he could not have anticipated that the moment they reconnect, even greater remorse would overwhelm him…
Sometimes in life, if we wish to move forward, we must first dig deep into our past and make amends. In Losing Hope, bestselling author Colleen Hoover reveals what was going on inside Holder's head during all those hopeless moments—and whether he can gain the peace he desperately needs.
"
I love music. LOVE music. Namely The Avett Brothers, Lumineers, Pink, Eminem. I have eclectic taste? If you have any recommendations, send them my way!
I'm addicted to diet pepsi and could tell you in a taste-test which restaurant it came from. It's a serious addiction, I tell you.
I get stoked whenever I get a message from goodreads saying I have a new friend request...so request me, dangit!
If you want to know when I have new books out or just want to be inundated by random, pointless blog posts, follow me at
www.colleenhoover.com
Avoid my Twitter at all cost. It's propaganda."