(Real, Raw, & Ripped, Book 1)
Synopsis:
A fallen boxer.
A woman with a broken dream.
A competition…
He even makes me forget my name. One night was all it took, and I forgot everything and anything except the sexy fighter in the ring who sets my mind ablaze and my body on fire with wanting…
Remington Tate is the strongest, most confusing man I've ever met in my life.
He's the star of the dangerous underground fighting circuit, and I'm drawn to him as I've never been drawn to anything in my life. I forget who I am, what I want, with just one look from him. When he's near, I need to remind myself that I am strong–but he is stronger. And now it's my job to keep his body working like a perfect machine, his taut muscles primed and ready to break the bones of his next opponents . . .
But the one he's most threatening to, now, is me.
I want him. I want him without fear. Without reservations.
If only I knew for sure what it is that he wants from me?
Review:
4.5 STARS
"Brooke," he growls softly, meaningfully, against my lips, as he draws back with a smile.
"I'm Remington."
Not a bad way to meet.. at-all..!!! Remy can introduce himself to me like that ANY DAY!
This book was a
great read!
Overall.. the story line was intriguing,
though a bit predicable at times, especially the ending twists.. but very good nonetheless.
I found myself having a lot of trouble connecting with the book and the characters at first, but since a lot of my friends loved "Real" so much, I did NOT give up hope on seeing why! and I finally did..
The first like 30% or so, for
me
was a tad slow.. it's basically about Brooke letting us know how wet and horny Remy makes her buy just being Remy.. literally..
btw.. yes, it's a HOT book so consider yourself warned.. :)
"My panties are soaked, and my pulse has gone haywire"
"I'm undone. Completely undone. Every sexual organ in me is awake and aching."
"The way his sweatpants hang low on his narrow hips make my breast feel so heavy and painful I swear to God I can't imagine how it will feel when I'm lactating one day."
and the list goes on and on.. trust me.. Remy turns her ON!
Despite her sometimes funny comments about how turned on she is, (which again, was all the time,
can't
stress this enough) Brooke is unfortunately not my favorite character and this was a problem for me since the book was narrated in her POV. There were moments where I literally wanted to slap her!! Especially at around 90%! GGGRRR
*deep breath*
I honestly never found a connection to her during this book.
She's a 20-something year old girl who just graduated from college that basically has a lot of trouble getting over the fact that she suffered an accident which caused her dream of competing
in the Olympics to go out the window.
"I'm still a little broken from my fall and trying to find my way into a new career."
At first I felt sorry for her, I mean, I can't even imagine how much that must
SUCK.
. but then after seeing her repeat it over and over and over again through out the ENTIRE book, comparing
that
to just about
everything
, she or Remy went through, got on my last nerve!
But Remy on the other hand.. *deep sigh*
LOVE
HIM
!!!
He's deliciously yummy, very alpha male like, sexy, broken in a way that makes
your
heart break for
him
, possessive but doesn't over do it, protective of what's his.. and definitely swoony! So YES! I get why everyone loves him! Hell,
I
LOVE HIM! and it's thanks to HIM, I enjoyed this book.
"When I take you, you'll be mine," he says in a soft promise in my ear. He slides his thumb along my jaw, then gently kisses my earlobe. "You need to be certain." His eyes are so hot that I'm on fire with the lust in them, and the word "mine" makes the empty place between my legs swell with longing. "I want you to know me first, and then, I want you to let me know if you still want me to take you."
"W

hy'd you want to have sex with me? To have a fucking adventure? What was I supposed to be? Your one-night-fucking stand? I'm every woman's adventure, damn you, and I don't want to be yours. I want to be your fucking REAL. You get that?"
"You're
my
fucking girl!"
Ok, so do you love him yet!? Because trust me, you will! There are some many more moments and quotes that will make your heart swell with nothing but love for this guy. But you'd need to read the book and find them out because a lot of those would be considered "spoilers"
Regarding the other characters.. well, they were pretty cool. I really liked
Pete and Riley! Especially Pete! and Melanie was funny also!! But Nora?? Hmm.. didn't like her so much.. found her story a little unrealistic.. I don't know..
Ok, what else..???
OH!
The SONGS!!! P
ay attention to the songs mentioned here because they play an important part in the story line!
So now, I really don't know what else to say about "Real" other than I LOVE Remington Tate aka Remy aka RIPTIIIIIIIIIIIIIIDE!!!!!!!!
"He wants to be my real, not my adventure. Even when he will be the realest thing in my life, I know it's still going to be an adventure. Because that's him."
More books in this series: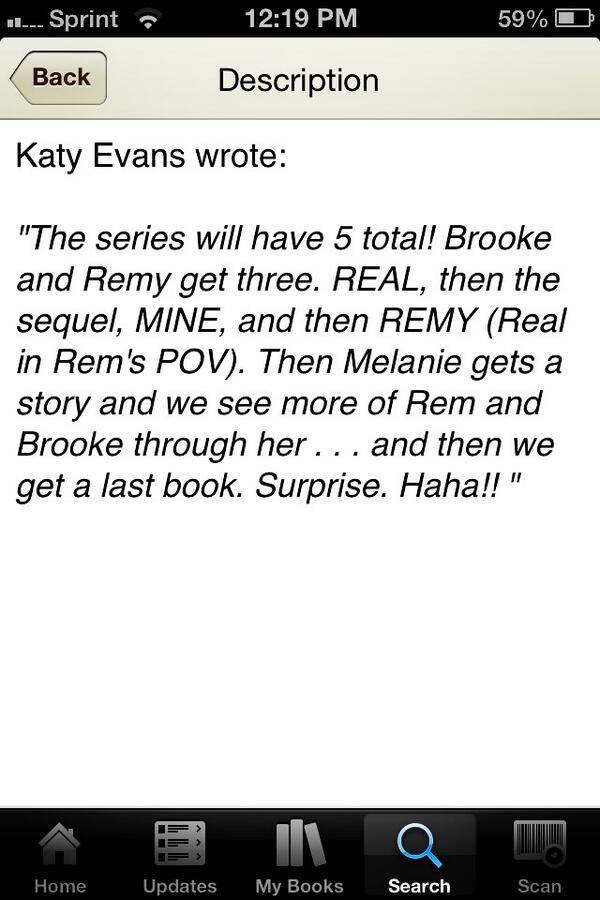 Mine
(Book 2, Real, Raw, & Ripped)
*No Cover Yet
Expected release date: June 2013
Remy
(Book 3, Real, Raw, & Ripped)
*No Cover Yet
It's "Real" but in Remy's POV!!! SQUEE!!
Book 4: Untitled
Book 5: Untitled
Author:
Katy Evans