Authors:
Christina Lauren
Christina & Lauren have been writing all kinds of stories together since 2009. This is not the first erotic romance they've ever written . . . but it is the first one under this name. Separated by the pesky state of Nevada, these co-author besties talk several times a day, agree that Ruby Pumps is the best nail polish color ever, and would, if given the choice, spend all day staring at the ocean from the San Clemente pier.
We don't respond to messages here, so please contact us via twitter or our site. Thank you!!
(Beautiful Bastard, Book 1)
An ambitious intern.
A perfectionist executive.
And a whole lot of name calling.
Whip-smart, hardworking, and on her way to an MBA, Chloe Mills has only one problem: her boss, Bennett Ryan. He's exacting, blunt, inconsiderate—and completely irresistible. A Beautiful Bastard.
Bennett has returned to Chicago from France to take a vital role in his family's massive media business. He never expected that the assistant who'd been helping him from abroad was the gorgeous, innocently provocative—completely infuriating—creature he now has to see every day. Despite the rumors, he's never been one for a workplace hookup. But Chloe's so tempting he's willing to bend the rules—or outright smash them—if it means he can have her. All over the office.
As their appetites for one another increase to a breaking point, Bennett and Chloe must decide exactly what they're willing to lose in order to win each other.
Review:
4 - 4.5 STARS
If I was asked to describe this book in one word, it would without a doubt be.. hot. And by hot, I mean fire-burning-kind-of-hot. HOT.
Chloe Mills and Bennet Ryan had much more than a boss-intern relationship. They went from hating each other, to having A LOT of angry, rough, and very passionate sex, and to finally, becoming lovers. That's basically the whole story line right there. There were no earth shattering secrets nor plot twists, just them trying not to kill each other while practically screwing their brains out. And let me tell you...They had sex everywhere!!! From a conference room, to a stairwell, to Chloe's car (yummy scene), a dressing room in a store.. Yes, a dressing room.. With people right next to them trying things on!! (Which was a veeery steamy scene FYI) .. to finally, doing it on a bed. They pretty much went at it anywhere. So again, yup, this was one HOT book written in alternating POVs (Chloe's and Ryan's) which was a mayor plus.
On a bit if a down side...
In a book, a "must" for me is an epilogue.. And the longer, the better. It gives the reader a sense of closure I suppose. Unfortunately, this book did not have an epilogue. The book just sort of ended where it did. Wham Bam Thank You Ma'am, the End. Don't get me wrong though... it does have a happy ending but I just wanted to read a bit more I guess.
Other than that, this was a good book.
Update:
Since I first read this book like 2 weeks ago, there have been updates regarding the series.
THERE WILL BE MORE ON BENNET AND CHLOE!!!!!!!!
Here's the
LINK
with the info
Explains why there wasn't an epilogue I guess..
and here is an

excerpt

.. Read this AFTER you read Beautiful Bastard since it's a continuation of what happened right after the book ends.. it's called
"Later That Night"
BUY BEAUTIFUL BASTARD:
Beautiful Stranger
(Beautiful Bastard, Book 2)
Synopsis:
A charming British Playboy. A girl determined to finally live. And a secret liaison revealed in all too vivid color. Book two in the NYT Bestselling series.
Escaping a cheating ex, finance whiz Sara Dillon's moved to New York City and is looking for excitement without a lot of strings attached. So meeting the irresistible, sexy Brit at a dance club should have meant nothing more than a night's fun. But the manner--and speed--with which he melts her inhibitions turns him from a one-time hookup and into her Beautiful Stranger.
The whole city knows Max Stella loves women, not that he's ever found one he particularly wants to keep around. Despite pulling in plenty with his Wall Street bad boy charm, it's not until Sara--and the wild photos she lets him take of her--that he starts wondering if there's someone for him outside of the bedroom.
Hooking up in places where anybody could catch them, the only thing scarier for Sara than getting caught in public is having Max get too close in private.
This book will be out tomorrow April 16, 2013

Paperbacks exclusively at:

TARGET!!!

Target has a version of the book that includes a letter from the authors!
GOOD NEWS!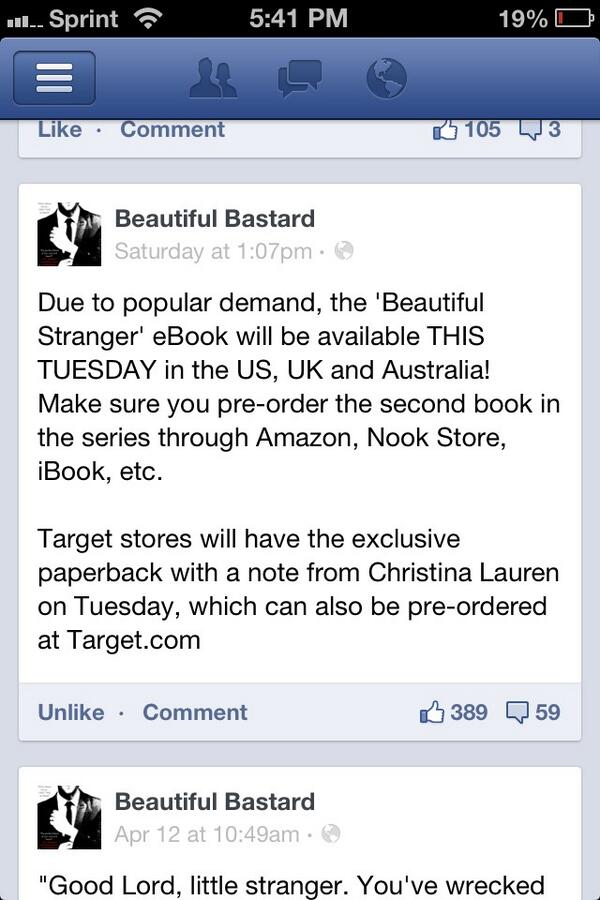 CLICK HERE FOR MOVIE NEWS!!!
Beautiful Bastard Movie

xo
Ly